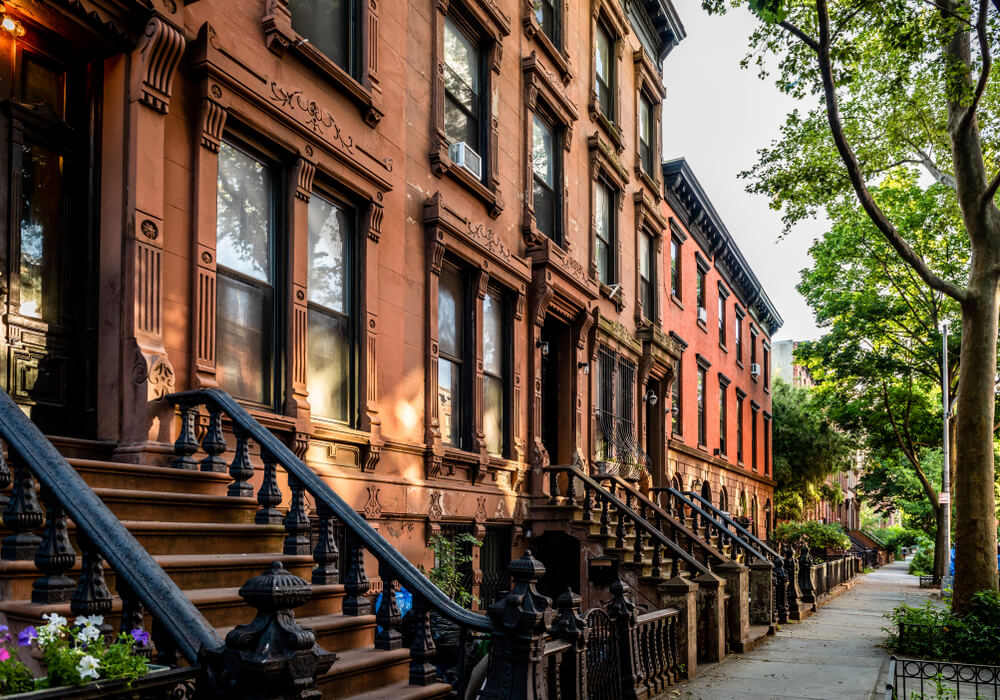 The History of Clinton Street in Brooklyn
The History of Clinton Hill 
Clinton Hill is a neighborhood in North-Central Brooklyn, New York. Known to locals simply as The Hill, it sits on the highest elevation in the area. Its cornerstone is Clinton Avenue, a tree-lined boulevard that was built along the crest of a hill in 1832. It is named for former New York Governor DeWitt Clinton (1769–1828). This neighborhood is a combination of apartment buildings, mansions, brownstones, and brick rowhouses. Clinton Hill is home to Pratt Institute and St. Joseph's University of Brooklyn. 
Similar to many neighborhoods in Brooklyn, Clinton Hill was established during the Gilded Age (1874–1907), a time characterized by great wealth. While Mark Twain coined this term to describe the late 19th century as a period that was glittering on the outside but corrupt on the inside, it also resulted in incredible architecture, parks, squares, transportation systems, and mansions. Neighborhoods like Clinton Hill are a reminder of the great wealth it took to make these achievements possible. 
Underneath the booming wealth, neighborhood development and westward expansion was the other side of the Gilded Age. Racial inequality, political corruption, and industrial regulation ran rampant and are as important to the history of Clinton Street, Clinton Hill and Brooklyn, New York as is the great wealth of industrious American entrepreneurs who helped shape them. 
The Secrets of Clinton Hill, Brooklyn 
Mansion row 
The many unique mansions on Clinton Avenue in Brooklyn are a must see for anyone living in the neighborhood. In the 19th century, the wealthiest people in town built their stately homes along Clinton Avenue, which became an affluent neighborhood and cultural hub. But by the 20th century, the wealthy had made their way to Park Avenue or new suburbs and these former mansions were turned into apartment buildings or sold to institutions. It's still worth your time to stroll down Clinton Avenue today as this architectural timeline is one of Brooklyn's great gems. 
Hidden tunnels 
A 165-year-old secret is hidden underground in Brooklyn. Thousands of people walk over it every day not knowing that there is something more below them than just sewers. This Civil War era secret spans thousands of feet under Brooklyn. Built in 1844 by Cornelius Vanderbilt using Irish immigrant labor, it was meant to be the world's first subway and help avoid accidents of trains striking errant Brooklynites. In a corrupt deal, the subway tunnel was buried and forgotten about by the end of the 1850s. Over 100 years later, a curious young man found the tunnel by reviewing an old blueprint in the local library. He conducted tours and many neighborhood residents found access points in their basements. The tunnel is now closed to the public and remains so indefinitely. 
Hauntings 
Clinton Hill is home to one of the most haunted homes in the city. Known as the Lefferts-Laidlaw House, this residence was built in the 19th century and is the only Greek Revival mansion left of its kind. In 1878 former residents of the home and their neighbors were so spooked by haunted activities that it was written about in The New York Times. 
Living in Clinton Hill, Brooklyn 
Walt Whitman, The Notorious B.I.G., and Susan Sarandon are among some notable celebrities who have been residents of Clinton Hill Brooklyn. In fact, if you take a look around you can see it is the people who lived in Clinton Hill that give it the character and charm that you find in the neighborhood. 
Thinking of moving to Clinton Hill? If you're moving in and need a place to store your belongings, contact the professionals at iStoreGreen of Clinton Hill who provide the best self-storage experience in Brooklyn.